Barnsley Main Evening Shoot and Light Painting demo 11/05/2022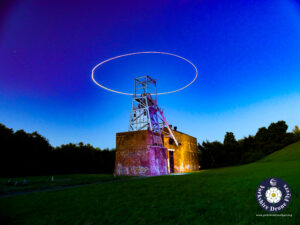 Barnsley Main Colliery originated as Oaks Colliery, when a coal-winding shaft and a pumping shaft were sunk to the west of Oaks Lane, Stairfoot, in 1824. Thirteen explosions occurred at the colliery over ten days in 1866, resulting in the deaths of 383 miners and the closure and infilling of the Old Oaks shafts. New shafts sunk at Ardsley in the following year opened as the 'New Oaks Colliery' in 1870. Barnsley Main closed in 1965, following an accelerated pit-closure programme. A £25 million-pound refurbishment scheme saw the re-opening of Barnsley Main in the 1970s, with the construction of several new buildings at the pit top. The site's surviving headgear and two-storey, brick-built engine house date from this period. Barnsley Main stands as a symbol of the mining heritage of the Dearne Valley and Yorkshire as a whole.
Currently the site is maintained by a wonderful group of volunteers, the Barnsley Main Heritage Group who work with the local council to conserve and protect the remaining buildings of Barnsley Main Colliery and the wider site. Their aim is to use the Grade 2 listed buildings to educate the current generation about the coal mining industry and the central role it played in the history of Barnsley and South Yorkshire. Please check them out on Facebook at https://www.facebook.com/barnsleymainheritagegroup
The heritage group very kindly agreed to come along and open the car park so our club members could have an evening shoot and take advantage of the 'golden hour' and also take the opportunity for a demonstration of drone light painting from our group experts Adrian and Aaron Appleyard.
We also took the opportunity to explain how our drones work and to give members of the heritage group the chance to ride along wearing FPV goggles.
A huge thank you to Adrian and Aaron and also the Heritage group who not only opened up the car park but also put on some excellent refreshments.  We are looking forward already to a return visit in the not too distant future.