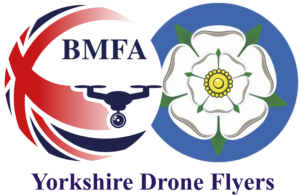 Arranged at short notice a small number of club members met up at Arthington Viaduct, near Poole in Wharfedale for a mornings flying and photography, we also planned at visiting a 2nd location too however the weather gods put a stop to that.
The morning turned out to be quite mild with nice blue skies. We met at around 11am at the lane near the viaduct, (What3words location ///scrubber.motion.tensions) and walked the very short way down the slope to the banks of the River Wharfe where you can really appreciate this wonderful  Victorian engineering. After about an hour of enjoying the location and flying a number of drones that incuded DJIMini2's, Air2S's and a DJI Inspire 2 we decamped to the White Hart pub nearby for coffee. Sadly while getting coffee the weather took a turn for the worse with heavy rain putting paid to any further plans for the day.
However we all enjoyed the few hours fresh air at a great and easily accessible location.
Arthington Viaduct, also known as Castley Viaduct and listed as the Wharfedale Viaduct, carries the Harrogate Line across the Wharfe valley between Arthington in West Yorkshire and Castley in North Yorkshire, England. It is a Grade II listed structure.
The viaduct was built, between 1845 and 1849, in a curve some 500 yards (460 m) in length, with 21 semi-circular arches on high piers. Construction was supervised by Chief Engineer of the Leeds and Thirsk Railway Thomas Grainger, who built the line from Leeds to Stockton-on-Tees via Harrogate and Thirsk. The foundation stone was laid on 31 March 1846 by Henry Cooper Marshall, Chairman of Leeds and Thirsk Railway Company and the line opened on 10 July 1849 when the nearby Bramhope Tunnel, another key component of the line, was complete. In excess of 50,000 tons of stone were used in its construction.